Science Bits gets the gold in Reimagine Education
December 10, 2015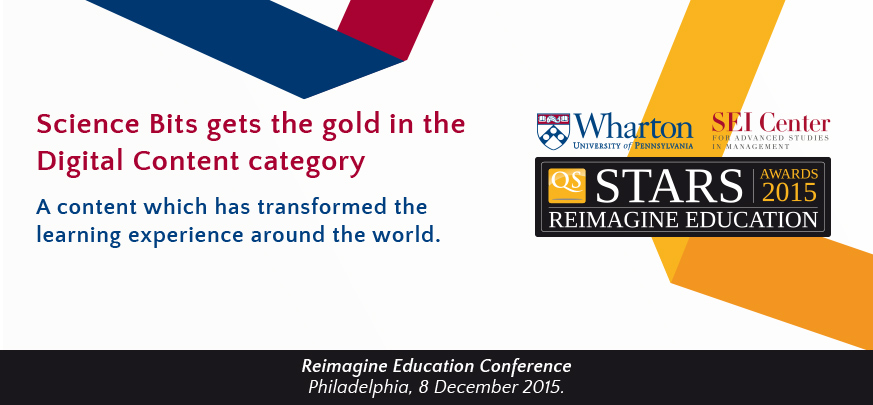 The "Oscars of innovation" in higher education recognize that we are truly transforming the learning experience of students around the world.
Science Bits, from the International Science Teaching Foundation, wins a gold in the Wharton-QS Stars Reimagine Education Awards in the Digital Content category.
The Wharton-QS Stars 2015 Reimagine Education Awards took place on December 8th in Philadelphia. The global competition received submissions from 520 universities and enterprises from 50 countries with 22 awards judged by a panel of 40 international experts – a «who's who» of higher education.
The conference emphasized fostering collaboration and partnerships among the world's most active HE innovators globally. They aim to facilitate sharing ideas, best practices, and learning from colleagues and experts from all over the world. Academics, university leaders, EdTech entrepreneurs, and venture capitalists networked and showcased their innovations.
About the Science Bits project
Technology is taking over schools in leaps and bounds. However, most of the new products contributing technology to the schools are still replicating an instructional model from the 19th century that relies on rote memorization of facts. In a connected world such as today's where information is just one click away this instructional model is clearly outdated.
The need for a new model has become apparent, and it is something educational experts have been demanding for about a century: the application of active methodologies in the school through competency-based models that distance themselves from rote learning and memorization (in other words, less focus on contents and more on critical thinking). At the same time, the PISA diagnostic tests, which incidentally follow a competency-based system of evaluation rather than one based on memorization, are changing educational policies across all OECD countries.
However, teaching and learning through competencies is not easy. It requires using appropriate tools and instructional options. In light of this, Science Bits aims to provide teachers and students with the guidelines for a competency-based methodology and empower them with all the necessary resources to implement this methodology in a practical and realistic way. If the educational tool of the 19th century model of learning was the textbook, Science Bits offers the tools to teach and learn Science in the 21st century.
For more information, visit www.science-bits.com.
About Reimagine Education
QS Quacquarelli Symonds, in partnership with The Wharton School SEI Center of the University of Pennsylvania joined forces in 2014 to launch the first global competition to identify the most innovative approaches in higher education to enhance learning and student employability.
For more information, visit www.reimagine-education.com.