Science Bits: winner at the MEDEA Awards 2016
March 10, 2016
The MEDEA Awards promote innovation and good practice in the use of multimedia resources in education.
Science Bits attended the MEDEA Awards Ceremony on March 14 during the 2016 Media & Learning Conference in Brussels as one of the 8 finalists between 195 entries from 34 countries.
Our team is especially excited to have won in the category of "Best Use of Multimedia Resources in the Teaching of Science." It is an honor to receive this award after working tirelessly to make the most out of new technologies and improve the teaching of science. At present, Science Bits has more than 600 videos and more than 2,000 interactive resources available (interactive activities, simulations, animations and educational diagrams, etc.).
MEDEA AWARDS
Encouraging innovation and
good practices
in the use of media
in education
The Medea Awards also recognise and promote excellence in the production and pedagogical design of media-rich learning resources, and its pedagogical vision is clear: "it is only when video and audio are routine components of education and online learning, that we will have an educational environment that reflects the media-rich world in which our learners now live."
As the panel of experts put it, not only does Science Bits enrich encyclopaedic texts based on memorization of concepts, it creates a model of constructivist teaching based on the 5Es that helps to develop learning through research and discovery and which is focused on the development of basic skills.
During the ceremony, the MEDEA judges praised many of Science Bits' features:
"Tasty, easy to getting started. I like it when science goes 2.0 and I think they are on track with this project."
"The pedagogical quality of Science Bits is excellent! The content, the media, structure of the sessions, evaluation methods, design of the website are all of excellent quality."
"One of the most important things in my opinion is the focus on deep learning and not just memorising"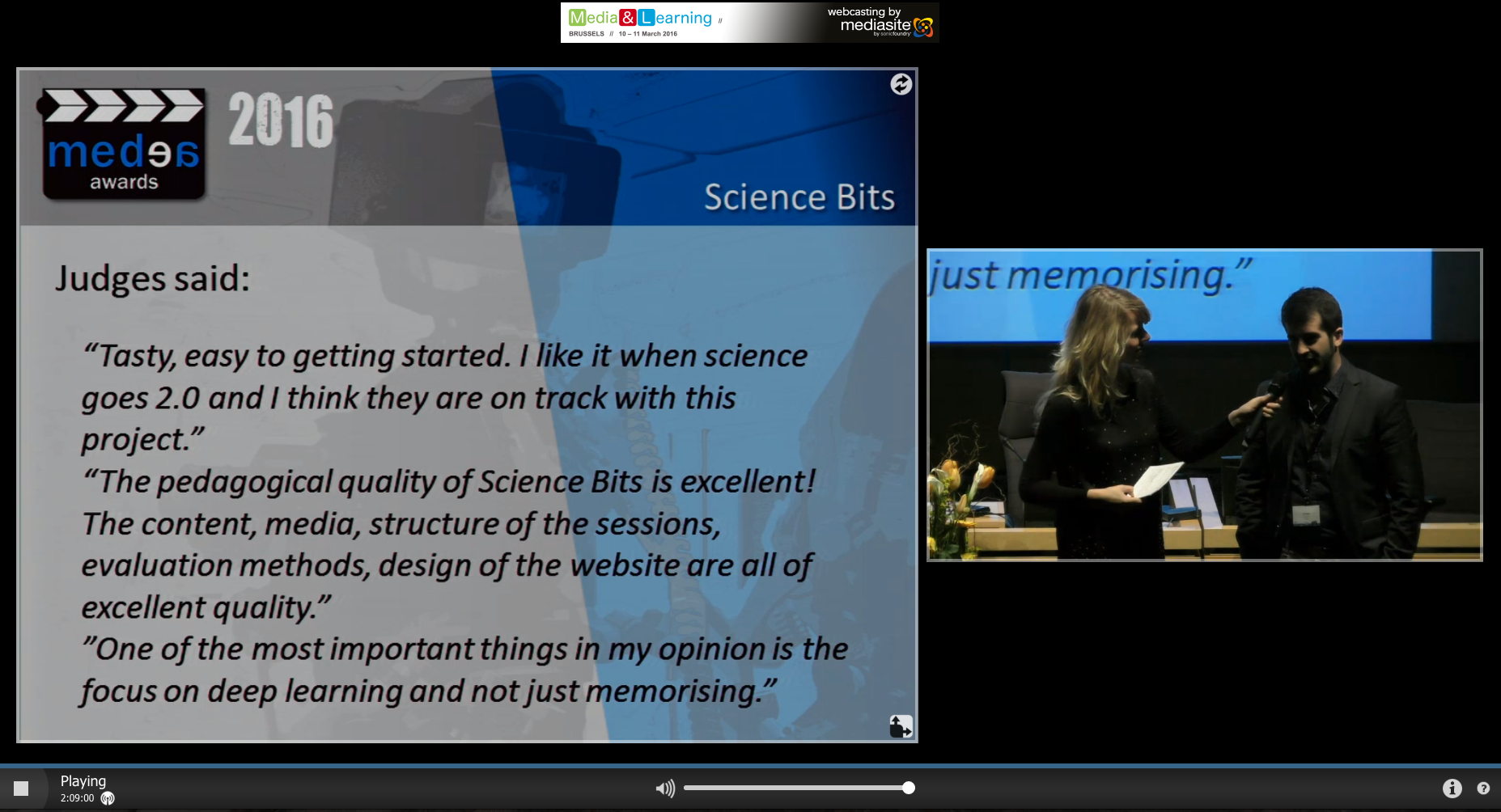 The original text from the MEDEA Awards judges
You can find more information about the MEDEA Awards at www.medea-awards.com
Media & Learning Conference
From 2010, the MEDEA Awards have been supported by the Media & Learning Association, a non-profit organization that promotes and encourages the use of multimedia as a way of improving creativity in teaching and learning through all levels of education. The association is very involved in promoting digital skills and practical application of multimedia resources in education and training.
The Media & Learning Conference is a good place to discover the latest developments, services and uses of multimedia resources in education and training.
Aimed at researchers, politicians and professionals, the aim of this annual event is to identify policies and initiatives that promote digital skills and best practices in implementation.
This conference is organized by ATiT together with the Flemish Ministry of Education and Training and the Directorate General for Education and Culture of the European Commission.
You can find more information about Media & Learning at www.media-and-learning.eu