Science Bits wins the Magisterio Award
December 14, 2021

Science Bits receives its 20th international recognition after winning the XIII Edition of the Magisterio Awards in the category of Innovative Methodologies.
Founded in 2008, the Magisterio Awards to the Stakeholders in Education give recognition to organizations, associations, professionals, and companies that contribute through their work to educational development throughout the world.
INNOVATIVE METHODOLOGY
The panel of the Magisterio Awards especially appreciated the shift in paradigm proposed by Science Bits, "a repository of multimedia science lessons that promote the change from an educational model, based on the mere transmission of scientific facts, to a constructivist model, based on inquiry, discovery, reflection, and critical thinking.
Based on the 5E Instructional Model (Engage, Explore, Explain, Elaborate and Evaluate), Science Bits lessons use a large array of multimedia interactive content to promote learning based on reasoning and guided inquiry and focused on skill development. It is the only curricular educational project that has been scientifically validated in terms of effectiveness.
EDUCATIONAL SIGNIFICANCE
The award also highlights the benefits the project brings to the teaching community, as well as its educational significance and success. As of today, this solution is being used by some 250,000 students in educational centers across 30 countries.
Developed in Spain by the International Science Teaching Foundation (ISTF), Science Bits is the work of an international and multidisciplinary team of researchers in cognitive psychology and science education, science teachers, and developers of multimedia resources. One of its main objectives is to help the teaching community to realistically and effectively implement active, competence-based teaching methodologies, promoted by current government curricula.
A SHARED RECOGNITION
It is an honor to be able to share the stage and award with so many other initiatives and relevant people in the field of education, who are concerned about offering our students a better future. Héctor Ruiz Martín, Director of the ISTF, pointed out that the award «is a recognition that makes us very happy and that further motivates us to continue working and learning about what we are most passionate about.»
ACCEPTANCE SPEECH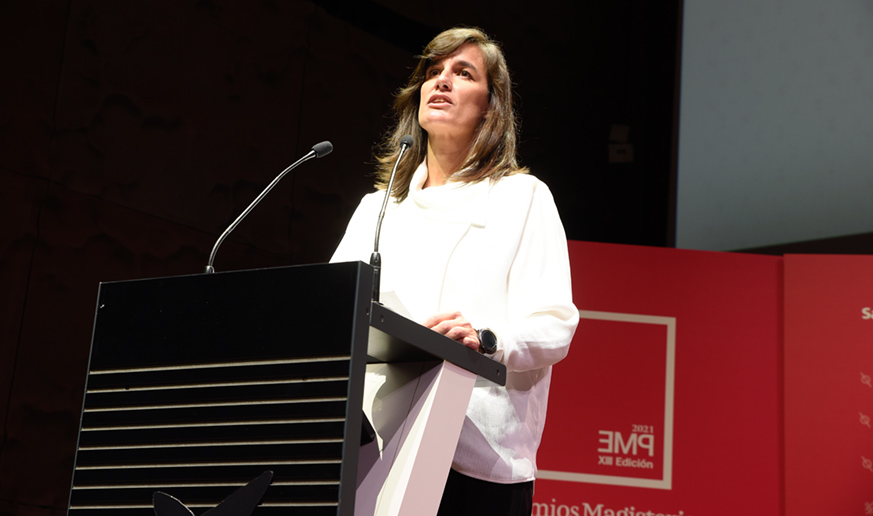 The Director of Institutional Relations at Science Bits Carolina Lamelas collected the award at the Caixaforum Madrid on behalf of the Science Bits team.
In her acceptance speech, Carolina highlighted that Education is the real driving force behind the transformation of society and praised the teachers for being the true protagonists of this award, who convey day in and day out their passion for learning to students.
This is what she had to say:
<Good night everyone,
I'll keep it brief.
First of all, I would like to thank the Magisterio newspaper for this award on behalf of the entire Science Bits team and, at the same time, dedicate it to each of its members.
This project exists because of the effort and creativity of many passionate professionals: didactic experts, teachers, and multimedia artists who work in the knowledge that education is the real engine of social transformation. Their dedication has allowed us to redefine classroom dynamics, adapting it to the needs of a modern school, and provide teachers with tools to promote quality scientific and technological education.
But the true protagonists of this award are the teachers, who go out of their way daily to motivate the new generations and help their students become individuals with curious and critical minds. So this award goes to you, teachers!
I cannot conclude without stressing how special this recognition is for us. Science Bits has now won twenty awards throughout its history, and this makes us the most awarded science teaching project in the world. We are so very proud of how far we've gone.
In addition, the recent confirmation of the effectiveness of our system, endorsed by a scientific study by the University of Barcelona and the Rovira i Virgili University, puts a finishing touch to a year that's been particularly difficult for all of us who love education.
All this, without a doubt, reinforces our commitment to continue to grow, improve, and innovate, because our aim is to change the lives of science students and thereby make a better future for our society.
Thank you.>