Science Bits Wins SIIA Education Technology CODiE Award for Best Science Instructional Solution
May 5, 2015
Science Bits were one of the 28 winners in the Education Technology category. The Software & Information Industry Association (SIIA) is the principal trade association for the software and digital content industries. An SIIA CODiE Award win for ed tech companies is a highly prestigious honor, as each award winner has been selected by a combination of educators, who act as initial judges by selecting finalists from among all nominees, and SIIA members-company peers, who vote to select the winners from among the finalists.
Science Bits is a repository of multimedia science lessons that promote the change from a traditional educational model based on the transmission of facts from teacher to learner to a constructivist based on inquiry, critical thinking, discovery and learning-by-doing.

To do so, Science Bits empowers teachers with science lessons that adhere to the 5E instructional model, and promote real understanding as well as engage students in science learning. All Science Bits lessons include dozens of multimedia and interactive resources (videos, animations, simulators, 3D models) and all the guides to teach and learn science by doing science. Moreover, Science Bits' user-friendly Intranet allows teachers to create groups of students, assign them bundles of content, schedule exams, monitor student progress, and grade open-ended questions, among other features.
"SIIA's 2015 Education CODiE Award winners are some of the most innovative, high-impact education products out there," said SIIA Karen Billings, Vice President and Managing Director of the ETIN-SIIA. "We congratulate all of this year's CODiE Award winners, and thank them for the contributions they have made to the education industry."
Winners were announced on May 5 during the Education Information Summit, at The Palace Hotel in San Francisco.
Details about the winning products can be found at www.siia.net/codies/2015/winners.asp.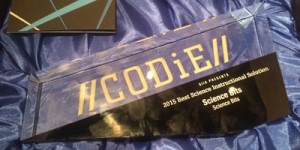 About the SIIA CODiETM Awards
The SIIA CODiETM Awards were established in 1986 by the Software & Information Industry Association (SIIA), so that pioneers of the then-nascent software industry could evaluate and honor each other's work. Since then, the CODiE Awards program has carried out the same purpose – to celebrate the software and information industry's finest products and services.
The SIIA CODiE Awards are the industry's only peer-reviewed awards program. The first round review of all nominees is conducted by media, publishing, and information services, executives with considerable industry expertise, including members of the industry, analysts, media and bloggers, and bankers and investors. The judges are responsible for selecting the CODiE Awards finalists. SIIA members then vote on the finalist products and scores from both rounds are tabulated to select the winners.
For more information about the SIIA CODiE Awards, visit: www.siia.net/codies.
About SIIA
Software & Information Industry Association (SIIA) is the leading association representing the software and digital content industries. SIIA represents approximately 800 member companies worldwide that develop software and digital information content. SIIA provides global services in government relations, business development, corporate education and intellectual property protection to the leading companies that are setting the pace for the digital age.
For more information, visit www.siia.net.
About ETIN
The Education Technology Industry Network (ETIN) of SIIA serves and represents more than 200 member companies that provide educational software applications, digital content, online learning services, and related technologies across the K-20 sector. The division shapes and supports the industry by providing leadership, advocacy, business development opportunities, and critical market information.
For more information on ETIN of SIIA, visit www.siia.net/etin.